2023 Music Concerts
February 1, 2023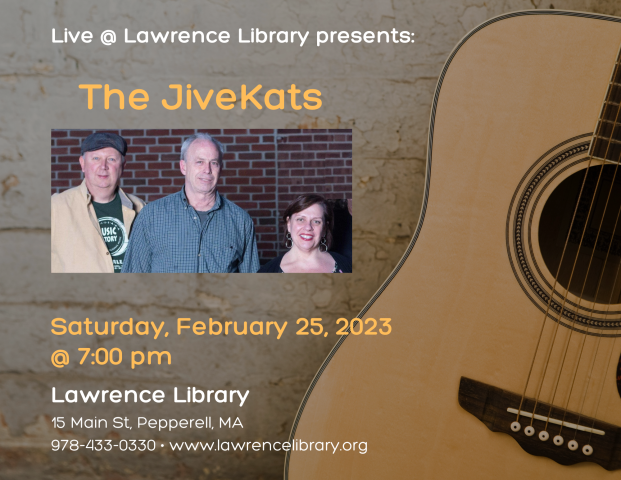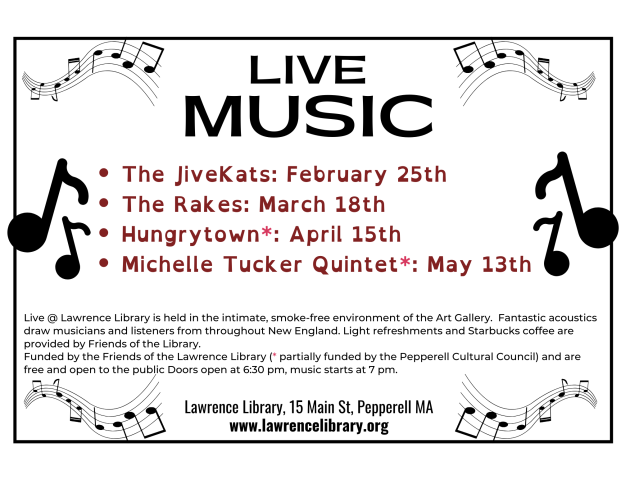 Live in Concert
JiveKats Band:  Saturday, February 25, 2023 at 7 PM
Join us on Saturday, February 25, 2023 at 7 PM for a fun night of music. JiveKats is an acoustic/electric band who interpret the roots of today's popular music. They bring you songs by the masters of today's genres as well as the contemporary artists whose music is based on them. Americana, funk, and R&B will satisfy your soul! Music you will love, brought to you by Kathy Nikitas, David West, Roland Ochsenbein, Jim Kelly, and Steve Dahlgren."
Our music events are held in the intimate, smoke-free environment of the Art Gallery. Fantastic acoustics draw musicians and listeners from throughout New England. All of our music programs are free and open to the public. Light refreshments are available; coffee provided by Starbucks Coffee, Nashua, NH. Funded by the Friends. Doors open at 6:30.
https://www.facebook.com/TheJiveKats
Join us, doors open at 6:30.  Funded by the Friends of the Lawrence Library.