Membership
Become a Friend
Join the Friends and help us support our library.  We purchase children's room materials and numerous museum passes, and sponsor cultural, educational, and recreational programs for all ages. Membership, like all donations to the Friends, is tax deductible and eligible for matching gift grants. Please check with your employer about matching gift programs.
Annual Membership Levels
Individual $10
Family $25
Patron $50
Benefactor $100
Other - Monthly, Tributes, In Memoriam, Bequests
Choose your payment method below.

Credit card or PayPal
Use the button below to fill out the online membership form and remit your payment via PayPal (PayPal account not required for credit card payment).

Online Membership Form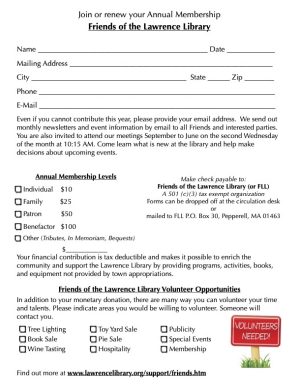 Check or Cash
Click on the button below to download a form which may be printed and dropped off at the Library Circulation Desk or mailed to:
Friends of the Lawrence Library
PO Box 30
Pepperell, MA 01463

Download Printable Form
Business Friends
Become a Business Friend of the Lawrence Library and show your interest in your community and your customers. The local community is enriched by our library's fantastic collection of books, music and movies; our museum pass program; online information and advice at your fingertips; cultural and educational programs; and a plethora of events including  concerts, activities, art exhibits. By supporting this quality programming, Business Friends help build a vibrant local community and a strong local economy. 
The Lawrence Library is the heart of Pepperell.
Your support keeps it strong.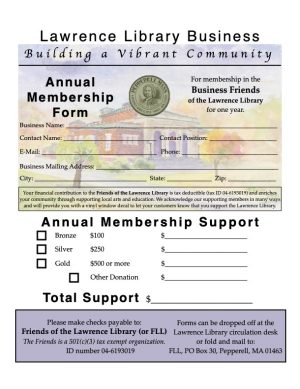 Business Membership
Business Membership Levels
Bronze $100
Silver $250
Gold $500
Click on the button below to download a form which may be printed and dropped off at the Library Circulation Desk or mailed to:
Friends of the Lawrence Library
PO Box 30
Pepperell, MA 01463

Download Form